Among the Bushes! (2015) - Short film
I'm here again, chasing after him like an adorable crazy maniac. He's always sitting in this park, surrounded by the trees,
reading a book, cute and charismatic. He's big, tall and handsome. I can't help myself; he makes my
feel mischievous in this little green piece of paradise. I'll take him between the trees, I'll make him take off his
clothes and I'll fuck him surrounded by leaves, sunlight and dog walkers. I say let's go, he says yeah for sure.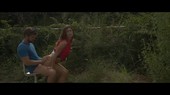 File info:
00:17:53 / 426x240 / 45.9 MB


https://hotlink.cc/0vjcstn37upa/Among_the_Bushes___2015_[TabooVideos.Tv].mp4.html
---