Gushing Prayer / Funshutsu kigan - 15-sai no baishunfu (1971)
Gushing Prayer: A 15-Year-Old Prostitute (1971)
by Adachi Masao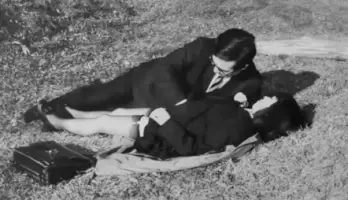 Pinku-eiga, usually full of misogynistic scenes and almost painful for the viewer's eyes exploitation, doesn't seem to have much in common with feminism. Unless we talk about Masao Adachi and his «Gushing Prayer» — an untypical pinku-eiga movie, which is still appearing in programs of the most important festivals like Berlinale or International Film Festival Rotterdam.
Masao Adachi's A Gushing Prayer (1971) figures the possibility for lived contradiction. The film was produced in the wake of the American occupation of Japan and its forced assimilation of Japanese society to Western values, yet it offers a cross-examination of the struggle against the occupation.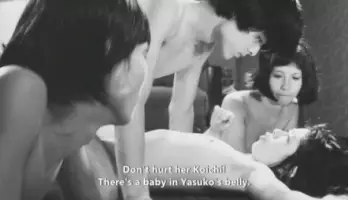 A Gushing Prayer is the story of four teenagers coming to terms with their sexuality. The film is divided into vignettes that repeatedly return to the same question: «Can we beat sex?» Adachi has said of this period that he wanted to «describe the way in which society was blocked» and that his films are «are an image of society at the time: I wanted to describe the feelings of a generation whose history was beginning to be written. Violence was present in all structures of this society. I wondered how people who were not heroes could survive this»
The early 70s. Japan has just come through 1968 and radicalized students protests. Yasuko, Yoichi, Koichi and Bill are teenagers, who started their own battle against adulthood and its doubtful morality by, as they say, «beating sex». When Yasuko confesses that she slept with their schoolteacher, her peers unanimously accuse her of breaking their secret rule and call her «a prostitute». As if that was not enough, Yasuko turns out to be pregnant, which bothers her friends even more. These unexpected circumstances trigger off the teenagers, who decide to examine the essence of their own sexuality in extreme terms.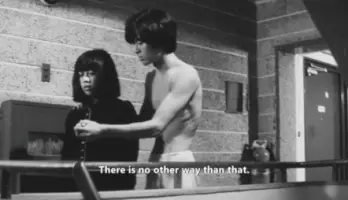 »Why is the child in my belly everyone's baby?» asks Yasuko. «Why did everyone think I should bear the child», asks the girl exposing the trouble of women independence (or its lack). The primary character of Adachi's movie is probably one of the most emancipated women in all the pinku-eiga's history. Disillusioned about her future and condition of the society, Yasuko decides to follow the instinct and explore the world on her own terms. Even contact with prostitution seems to be almost a philosophical decision, which gives her a better insight into life. In «Gushing Prayer», we won't find any rapes and violence, only a young, incongruent girl, who at all cost tries to find her place in this strange world.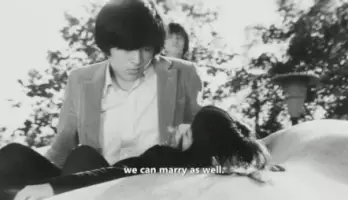 Gushing Prayer» resembles a poem, which intertwines dialogues with suicide notes of young girls, severe, black and white shots with intermittent frames full of colours. All of this together makes a formally extravagant yet unstudied image of a discouraged young girl, who lives a life without any hope and future. Lazy music of Minami Masato emphasizes the slow pace of the film. Particularly noteworthy are documentary shots of tanks crossing streets of Tokyo. Their author, Hideo Ito, was one of the most prolific pinku-eiga cinematographers.
Even though «Gushing Prayer: A 15-Year-Old Prostitute» is not of the highest order from an artistic point of view, Adachi's work is undoubtedly worth watching due to its feministic character, which is truly untypical for other pinku-eiga films.

A teenaged girl, already a jaded sexual veteran, embarks on an odyssey of self-discovery to find out the true reasons for her dissatisfaction and total desensitization.
The film has embedded English subtitles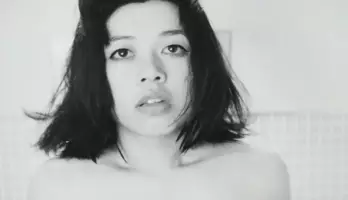 01:14:01 / 1888×800 / 1.11 GB



https://hotlink.cc/k9rwmq0lglu1/Gushing.Prayer[TabooVideos.Tv].mp4


---