Summer School (1979) - USA Adult Film
When Jamie's boyfriend tries pressuring her into sex, she decides leaving him for summer school, where she meets an uninhibited sorority. After Sandy tells Jamie how a teacher there sexually bribes Jack the jock with good grades, she reveals how Mary had to ask two gardeners for sex as sorority initiation. Sandy later seduces Jamie in the showers. Meanwhile, Paula seduces a teacher during a field trip. To prepare for her initiation, Jamie seduces Jack. Finally, her initiation is seducing sexual harasser Professor Donahue. She decides to get over loathing him by being the dominant party. She announces to Paula's teacher of becoming Paula's successor - in every way - as sorority head.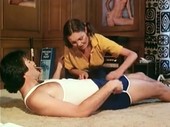 File info:
01:13:18 / 320x240 / 254 MB


https://hotlink.cc/dk9y6j5mpkab/Summer_School__1979__brrip[TabooVideos.Tv].mp4
>>> Player is not working ??? <<<
If you see the player but it does not turn on:
- Pass the Anti-DDoS test (4sec) , then update this page.
...........................................................
If the player is completely missing:
- turn off your vpn or change the VPN location

- Or read full instruction FAQ