Sara Jean Underwood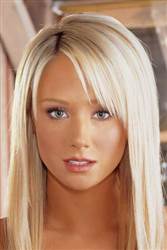 Amazing bed scenes in films
Cute, slim and sunny blonde sprite. She was on the volleyball team in junior high school. Her first job was assisting in the sales of heavy construction equipment. Underwood worked as a waitress at Hooters . She attended Oregon State University as a major in Business Marketing.

Sara first appeared in Playboy in its Girls of the Pac-10 pictorial in the October 2005 issue. She was featured on the cover, holding a football and clad only in a body painted rendering of an Oregon State Beavers football jersey and matching bikini briefs. She next appeared in the magazine in July 2006, as the Playmate of the Month. When she became Playmate of the Year in June 2007, her prize included a Mini Cooper convertible.

She was the first Miss July to receive the title, although she herself said, "I didn't think I was pretty enough". In March 2008, Playboy magazine ranked her at #25 on their "25 Hottest Playboy Celebrities" list.

Subsequently, Playboy featured her as Miss July 2006. She appeared in several more episodes of The Girls Next Door.

On 2007, a group of Oregon State University women's studies created a poster celebrating Underwood's selection as Playboy's 2007 Playmate of the Year, and posted it outside Bexel Hall, where it remained in place for a few hours before Oregon State University staff took it down. The poster read, "Sara Jean: First OSU Beaver Playmate of the Year, Playboy June '07, OSU Centerfold, People, Ideas, Innovation." The mention of her as the "first" Playmate of the Year from OSU was actually incorrect; she was preceded by Jodi Ann Paterson, the Playmate of the Year for 2000.

Underwood appears as a pirate wench in the 2007 film Epic Movie, along with fellow Playmates Qiana Chase, Irina Voronina and Jillian Grace. Underwood appeared as herself in the 2008 comedy, House Bunny, along with fellow playmates and in 2009 was in the film The Telling with Bridget Marquardt and Holly Madison, and as herself in Miss March. In 2013 Underwood was cast in the lead role in the horror thriller Deadly Weekend.

Underwood appeared on the wedding episode of Kendra where it was announced at Kendra Wilkinson's bachelorette party. Later, on The Howard Stern Show, Underwood confirmed that she had breast implants.

Underwood has also worked in television as a presenter. She worked as a "fight jock" or continuity announcer for the Blackbelt TV cable network. In 2009 she co-hosted five episodes of G4's Attack of the Show, filling in for a vacationing Olivia Munn. She co-hosted episodes in 2010. In 2011, she was a substitute host and one of the regular presenters of The Feed.

An practitioner of yoga, Underwood competed in the eighth Kunoichi competition in Japan, known in the U.S. as Women of Ninja Warrior. She won her first stage heat after gaining a big lead on three Japanese contestants that had more pedigreed backgrounds in athletics. After modeling in advertising for VictoryPoker.net and playing in charity poker tournaments, Underwood joined their team of professional poker players.

In 2012 Underwood was on MTV's reality show Ridiculousness as a guest star for Season 2.