Jennifer Prediger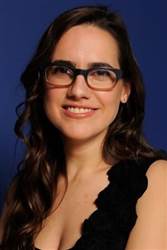 Hot bed scenes in films
Prediger's first film role was as an out-of-town guest and temptress in 'Uncle Kent', a film directed by Joe Swanberg that premiered at Sundance in 2011 and was purchased by IFC. She has also gone to Sundance with three other films - as the composting love interest in 'The Foxy Merkins' in 2014 (dir. Madeleine Olnek), the nosy roommate in 'A Teacher' in 2013 (dir. Hannah Fidell) and as the tentative Vice Principal in 'First Girl I Loved' in 2016 (dir. Kerem Sanga). Jennifer plays an obsessed cinephile in the Gotham Award nominated comedy 'Red Flag' (dir. Alex Karpovsky), released by Tribeca Film. Jennifer is the star of the dark comedy 'Living Room Coffin' and the site specific fringe festival playwright in the upcoming feature 'Hollywood Fringe'. Prediger also has leading roles in 'Richard's Wedding' and 'Applesauce' (dir. Onur Tukel) and 'Pollywogs' (dir. Karl Jacob).

Jennifer plays a lusty doctor in 'The Strange Eyes of Dr. Myes' (dir. Nancy Andrews) which won a Gotham Award for Breakout Series. She also appears in 'Uncle Kent 2' (dir. Todd Rohal) and '7 Chinese Brothers', 'Infinity Baby' and 'Frances Ferguson' (dir. Bob Byington) - all of which premiered at SXSW. She plays opposite Max Casella in Applesauce (dir. Onur Tukel) which premiered at the 2015 Tribeca Film Festival.

'Apartment Troubles' (formerly Trouble Dolls) is her first feature film as a director and writer, co-directed and written with Jess Weixler. The film stars Prediger and Weixler and features Megan Mullally, Will Forte and Jeffrey Tambor, and was released by Gravitas in spring 2015 and aired on Showtime. She also produced 'Song of Back and Neck' (dir. Paul Lieberstein) that premiered at Tribeca in 2018.