Antonella Costa - No mires para abajo (2008)
The main character a very strange young man walks on stilts and in a pie suit, sees the dead sitting on chairs,
walks in a dream and talks to his recently deceased father. 
And then falls literally from the sky on a charming girl. 
The girl is not simple a lot to see in life and sexually educated. She decides to teach
the guy all the tricks of sex. And that he could make 40-60-80 and more frictions before ejaculation,
and at the same time so satisfy the woman that after that she will not let him go.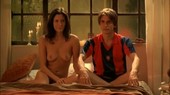 File info:
00:29:35 / 640x360 / 134 MB


https://hotlink.cc/r55z2lejsupx/ANTONELLA_COSTA_-_NO_MIRES_PARA_ABAJO__2008_[TabooVideos.Tv].mp4.html