I Spit on Your Grave: The Complete Collection (1978-2019 | 5 Movies )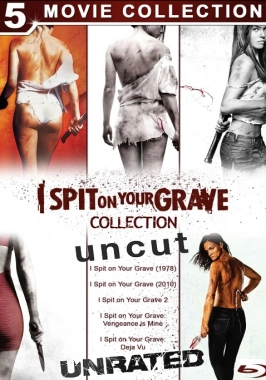 Day of the Woman (1978)
An aspiring writer is repeatedly gang-raped, humiliated, and left for dead by four men whom she systematically hunts down to seek revenge.

I Spit on Your Grave (2010)
A writer who is brutalized during her cabin retreat seeks revenge on her attackers, who left her for dead.

I Spit on Your Grave 2 (2013)
When Katie innocently accepts an offer to have new photos taken for her portfolio, the experience quickly turns into a nightmare of rape,
torture and kidnapping. Now, she will have to find the strength to exact her brutal revenge.

I Spit on Your Grave 3: Vengeance Is Mine (2015)
Jennifer is still haunted by the memory of being gang raped and almost killed years ago. At her therapist's advice, she joins group therapy
and meets similar women. She befriends one and they want more than just talk - justice/vengeance.

I Spit on Your Grave: Deja Vu (2019)
Cinema's top lethal lady vengeance returns in the most anticipated sequel of all time.

Language:
english
Subtitles:
english
Screenshots:

Resolution: 1920x1080, FullHD, Mp4


 Day of the Woman (1978)
I Spit on Your Grave (2010)
I Spit on Your Grave 2 (2013)
I Spit on Your Grave 3: Vengeance Is Mine (2015)
I Spit on Your Grave: Deja Vu (2019)