Room 33 (2011) - Short film
Find out what desires linger behind room number 33.
To celebrate it's opening, Barcelona's Camper Hotel invited six Spanish filmmakers to shoot a 7 minute film in the hotel over 24 hours. There was one condition – total freedom on the part of the director. Transforming this plush Spanish location into a dreamy Love Hotel, Room 33 is about the sexiness of travel, intimacy and complete strangers, and the allure of what happens behind closed doors.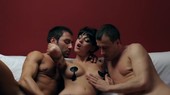 File info:
00:06:30 / 1280x720 / 58.7 MB


https://hotlink.cc/eaabxuq7qz4p/Room33[TabooVideos.Tv].mp4
---
Date: 25 December 2019
0
32 153